Traditional cuisine.
Home-made, specialities and favourite dishes
At the Jochele Hotel & Restaurant, hotel guests and locals, fans of speck platters and gourmets all feast together side by side and completely at ease. A culinary day at the Jochele has plenty to offer! The bustle of hard work starts in the hotel kitchen when the cock first crows in the morning. Chef Horst and his team treat fans of South Tyrolean cuisine to typical specialities and international creations. At lunchtime and dinner time, the menu includes a tempting selection of favourite South Tyrolean dishes: home made Schlutzkrapfen, cheese and bacon dumplings with coleslaw, aromatic herb dumplings and Kaiserschmarrn pancakes. If you can't find something to tickle your taste buds here, then you can't be looking properly!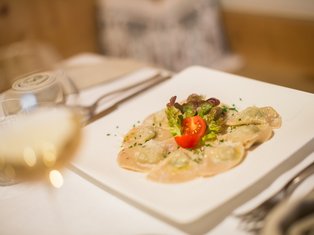 Restaurant opening times
The à-la-carte restaurant kitchen:
daily 11.30 am to 2 pm and 6 pm to 9 pm
On Tuesdays the restaurant is closed to non-guests.
The breakfast buffet:
daily from 7.30 to 9.30 am
Non-guests are also welcome to partake of the Jochele breakfast buffet. Please make a reservation in advance!
Michl says...
If the huntsman's been a-stalking,
then soon of venison we'll be talking.